Help Promote These Powerful Sermons and Materials!
Powerful Ways to Promote this Ministry
• You can request to have free literature sent that you may display in your store, ministry, etc. Just contact us: 1-800-WDF-1840 / 706-820-9755, support@wdfsermons.org
• If you have a Facebook account, be sure to search for W.D. Frazee Sermons and "like" us. After you "like" us, you can "share" us with your friends list and encourage them to do the same. This is the fastest of all our promotional methods to reach as many as possible regarding these precious messages. After you have "liked" us or if you already have, please write a testimony in the "review" tab and post comments on our "wall." We are very excited to start some lively conversations in the "discussions" tab. You can join in a current discussion or create a new one.
Downloadable Materials: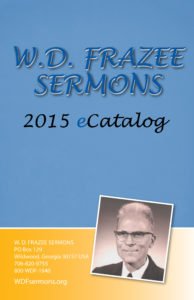 2015 eCatalog

2015 W.D. Frazee Sermons eCatalog (you can also right click the link and select "save target as," "save to download folder," "save link as," "download linked file as," etc.) This is an interactive PDF catalog, with hyperlinks that connect you directly to the products that are listed. It is free to download and share or host on your website. Please note that since it is several years old same of the prices and information have since been updated.

Host our Materials on Your Website, Air Them Over the Radio, or Request One of Our Written Materials for Your Ministry's Publication.
If you would like to host some of our sermons on your website, air them over your radio station, or request some of our written materials for an article in one of your ministry's publication–please contact us at:
Support@WDFsermons.org
PO Box 129
Wildwood, GA 30757