#1 Historical Restoration Fund
New Transcriptionists are Putting Out an Average of 15 Transcripts of Elder Frazee's Timeless Sermons Per Month!
A sincere "Thank you!" for all you have done to advance W.D. Frazee Sermons to whe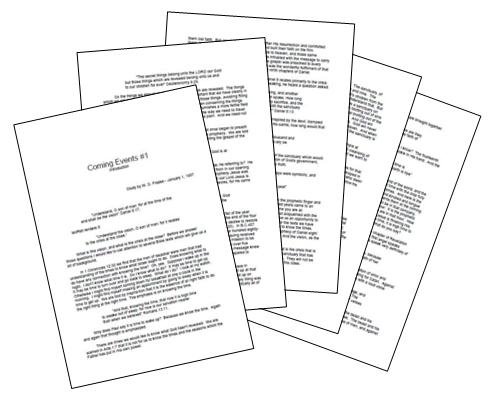 re it is today. Because of God's blessings through your prayers, donations and public relations we have been able to remaster the entire audio library of 1,663 messages, reprint all our major books, translate materials into other languages, build a heritage center and much more!
The biggest project has been transcribing all of Elder Frazee's messages into written form. It started many years ago as Homer Barrett and other Wildwood alumni began to type out Elder Frazee's sermons. The blessing of having his messages written out–for fast searching of topics, copying and pasting to create one's own sermons and many other useful features–meant that many dear souls had to volunteer their time throughout the years to give us yet more of Elder Frazee's messages in typed form. Lee Shafer, Jim Bound, Theresa Nybo, Clarissa Marshall, Angela Moore, and many others over the years have contributed to this huge project.
Because the project is so vast we researched having digital software to do the transcribing for us. However, we discovered that the best software available still makes so many mistakes that a good transcriptionist can do the work more accurately and with far less mistakes to correct.
The past three years have seen the project run at a trickle. We had run out of funding so we had to rely on volunteers. Many sincerely wanted to help but once they realized what a huge and involved project this was they were unable to do much to advance it. We realized that the only way to advance the project was to actually pay our helpers so that they could afford to devote more time to the project than just a few spare hours per month.
It came to the point where we had to say "Lord, this is Your work. If You want this project done, You will need to provide the transcriptionists as we have done all we know how to do." Just this year, the Lord blessed us with three new transcription workers: Kristin Hannum, Suzanne Boykin and Kristen Ravencroft. In only eight months time we have been able to type out 120 raw transcripts. This is the best rate we have had for the past decade!
Elder Frazee had his own printing press and was a proof reader when he was just a youth. He had a lifelong commitment to excellent work in written material. In his honor we have tried to do our best to make sure that these transcripts are in great shape before we release them to the general public. First, the audio message needs to be typed out from scratch. This first typed-out-version is what we call a "raw transcript."  Over the years we have developed a standardized way of formatting and editing the transcripts. Our new transcriptionists have been trained how to do raw transcripts in the new standardized ways. This has saved a lot of time. We still have around 600 transcripts that were done by several different people over the course of many years before we had a standard way to do them. As you can imagine, this is a lot of work. But we believe that the end product is well worth the effort.
In the past, our goals were to get as many transcripts as possible into a final-fully-edited form. That is what produced the 715 PDF files which we have on the website and included in the Complete Works Flash Drive. Now that we have such excellent workers who do so well with bringing raw transcriptions to our standardized format, we have felt that the new goal is to get all Elder Frazee's audio messages transcribed in some form. Just recently–October of 2017–we have managed to accomplish a very important goal. We now have all the sermons in one format. There are about 1,450 of them currently. That means that we only have about 200 raw transcript to do.
During the period when we didn't have many people working on the transcripts, several people gave donations to the project. Because it didn't cost much to maintain the few hours per week which our previous transcriptionists worked, the money was able to accumulate. So when God blessed us this year with our current transcriptionists, we were able to set aside just over $9,000.00 to work with. Since then, several thousand dollars have come in through generous gifts in response to a letter we sent out in April.
Because this is contract work and our transcriptionists only work as they have opportunity, we can only project rough estimates for the future. Based on what has been done in the last eight months and that some of our transcriptionists plan to increase their time transcribing, we will be spending close to $1,200.00 on our transcriptions every month. We have already used up about $7,000.00 of the $9,000.00 we had. But the generous donations which came in as a response to our April fund raising letter, means that now we have $8,000.00 with which to continue this project! Praise God!
So, without any further funding, we could last another 3 months, approximately. To just be able to meet our first goal, if we keep at our current pace, we need to fund another 8 months of work beyond the 6 months that is already funded. So that means that we are about $10,000.00 short of the financing we need to finish the first goal of the project.
For all who have donated to this project and would like, we can send you all the transcripts we currently have  so you can see the progress which has already been made and the work that is yet to be done. Also, we can send you periodic updates with the latest sermons that have been newly transcribed from scratch.
Because of the sudden way in which the Lord sent us these three faithful transcriptionists, we trust that the Lord will also provide the needed funds to keep them going to finish the first goal and more.
Thank you so much for all your support for W.D. Frazee Sermons
The W.D. Frazee Sermons Team
If you would like to continue to see more transcripts available in the future, please donate using the Historical Restoration Fund button below:

W.D. Frazee Sermons is not only an historical ministry, but we currently have a missionary family in Honduras who are doing medical missionary evangelism – Homer and Berta Barrett. They understand both English and Spanish and were personal friends of W.D. Frazee. They are the perfect couple to help translate Elder Frazee's materials into the Spanish language! They currently have translated a few transcripts that you can download here.
They are in need of funds to keep the translations coming. If you speak Spanish or would like to support those who do with more powerful materials in one of the most widely-spoken languages of the world, please donate using the Translation Fund button below: