#1 Historical Restoration Fund
We currently have  715 of the 1663 transcripts of Elder Frazee's sermons available. It is a very long and tedious-but-important project.
In doing so, we are trying to follow the counsel from the Spirit of Prophecy:
"I have been instructed that we should make prominent the testimony of some of the old workers who are now dead. …The history of the early experiences in the message will be a power to withstand the masterly ingenuity of Satan's deceptions" Counsels to Writers, page 2.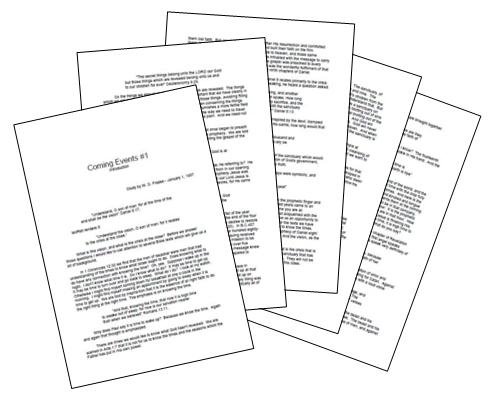 Many pastors and others like having transcripts in addition to the audio messages because they can use them for outline use for their own sermons and study. Also, some people are not used to Elder Frazee's voice but still love the content. Transcripts provide a way to enjoy the content while getting used to Elder Frazee's voice.
God has recently sent us two helpers to revive the transcription project. We are paying them for these services, so we can only keep going as long as we are able to fund them. To complete the transcribing and editing, it will take over 4,000 hours and thousands more dollars.
If you would like to continue to see more transcripts available in the future, please donate using the Historical Restoration Fund button below:
#2 Translations into Spanish
W.D. Frazee Sermons is not only an historical ministry, but we currently have a missionary family in Honduras who are doing medical missionary evangelism – Homer and Berta Barrett. They understand both English and Spanish and were personal friends of W.D. Frazee. They are the perfect couple to help translate Elder Frazee's materials into the Spanish language! They currently have translated a few transcripts that you can download here.
They are in need of funds to keep the translations coming. If you speak Spanish or would like to support those who do with more powerful materials in one of the most widely-spoken languages of the world, please donate using the Translation Fund button below: